TABLET FORMS
Take your business to the next level with mobile forms. Convert your existing paper forms into a tablet 'app' custom built for your business needs.
TIMESHEET MANAGEMENT
Proven solutions for hospitals, home health, senior living, and those seeking to empower seniors to 'age at home'.
DIGITAL WRITING
Proven solutions for hospitals, home health, senior living, and those seeking to empower seniors to 'age at home'.
PROJECT MANAGEMENT
Proven solutions for hospitals, home health, senior living, and those seeking to empower seniors to 'age at home'.
ALL INCLUSIVE BUNDLE FOR $29.95/MONTH
INCLUDES 1 GB OF SHARED DATA
Send us an Existing Paper Form
Send us the work order, timesheet, inspection checklist, or any other form that you use today.
We design your Mobile Forms App
For a one-time set up and design fee of $250.00 we will create your customized mobile forms app.
We provide devices and connectivity
We recommend the right device, you order the tablets, and we get them setup and delivered to you.
We manage and support your app
We provide training, deployment planning, and on-going support.
SEND US YOUR EXISTING PAPER FORM FOR A FREE DEMONSTRATION
We turn your existing paper forms into an app for your tablets and smartphones. Dispatch jobs to a tablet and track job completion.
Enhance your existing forms with powerful features like mobile photo and video capture, GPS location capture, sketches, date and time stamps, signature capture, and automatic calculations.
Create powerful reports in Excel to analyze the data you collect and easily 'transmit' data into existing line of business applications to save time and expedite processing.
We already integrate with many business applications, including:
We had been searching for a solution to our forms processing vision, one that we felt would best meet our needs and budget. When we began working with ChartaCloud, we not only rapidly created what we were seeking but found a supportive partner deeply commited to be engaged with us every step of the way.
- Ryan N., The Generator Connection
The use of advanced technology has played a significant role in our ability to do so. ChartaCloud has been more than instrumental as a solution provider and partner that enabled us to move to the next level of care and service for our clients while sustaining HIPAA regulatory compliance.
- Cheryl R., APEX Healthcare Services
Track employee time and attendance with a simple-to-use mobile timesheet management solution. Log time, attendance, and job information using tablets or smartphones. Timecard is specially designed to be intuitive and easy to use for mobile workers.
This simple mobile software enables mobile workers to log clocking in/out, tasks, sub-tasks, cost codes, lunch periods, breaks, and custom fields. Web administrators can view 'live timesheets' to track the status of mobile workers, both past and present.
This solution allows a supervisor/team leader to clock team members in and out from one device. In addition, built-in GPS Tracking allows you to see the location of mobile workers on the go.
Get the reporting you need and the timecard data integrates into over 100 Accounting and Payroll packages.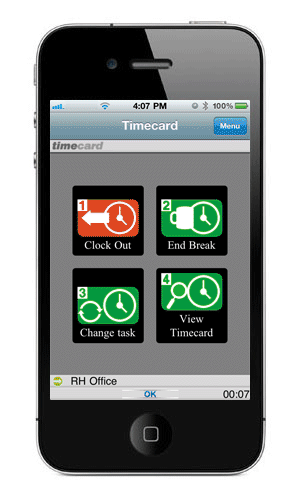 We understand that your business runs on paper and your 'tried and true' paper forms. Maybe your business is not right for mobile forms on tablets, perhaps you work in a rugged environment or tablets disrupt the way you work. That's why we recommend digital writing.
With digital writing you can eliminate scanning and instantly capture and process your information.
You don't need to eliminate paper to make your business processes profitable. You just need to be able to connect the paper and the digital into one, unified, seamless workflow. All made possible with smart paper and digital pens.
Digital writing technology enables your business to complete paperwork as you normally would, while accelerating the processing and handling time, improving productivity, reducing expenses and gaining instant insight into critical form data components.
Digital writing enables companies to eliminate scanning and manual data entry with a technology that extracts handwritten entries and instantly converts it into usable digital text that can then be imported or integrated into other existing business applications.
Print 'smart paper' using common office paper and a special software we provide.
Fill out your form as you normally would with a special digital pen. The digital pen records all of your handwriting as you write.
Dock the pen in its docking station or upload via Bluetooth and automatically receive a digital PDF of your form. Eliminate scanning and convert handwriting into usable digital data.
Always know who is doing what, where and when with this visual project management tool.
Display and track your projects in the most convenient way - by indivudal, team, project, and more. Enjoy creating, assigning, and moving tasks witha n easy to use drag and drop interface.
Get an indepth look into daily operations and monitor the task completion path. Track down bottlenecks and make adjustements within your process. Get a calendar-based view into project and team assignments. Dispatch and assign work and meet your project deadlines.
Use the built-in time tracking feature to monitor performance, bill clients and better understand your teams' capabilities.
NOT SURE WHAT SOLUTION IS FOR YOU?
Just give us a call and explain your problem. We are happy to help identify and recommend the best solution for you based on years of experience.
Call us today! 603-580-1088